Flawless: Strength & Conditioning 4 Week Program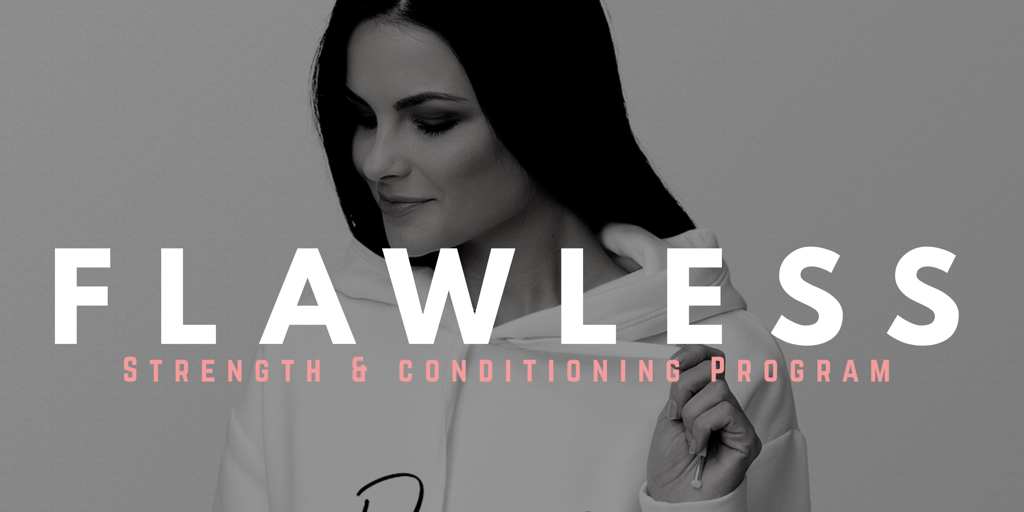 Flawless: Strength & Conditioning 4 Week Program
Flawless is specifically designed for women of all fitness levels. This program will challenge you with creative and unorthodox training techniques that will strengthen, tone, and define your entire body. Each workout uses a series of methods and exercises that will take your body and your fitness level to new heights.
For the next 4 weeks, you will focus on strength, conditioning, and various abdominal and core movements. The program is designed to utilize a myriad of training tools such as: dumbbells, kettlebells, bodyweight, and more. These training tools require a new level of concentration and focus in order to build skill to build a lean and sculpted body.
All workouts and documents can be accessed via tablets, smartphones, and computers so that you can perform your workouts anywhere! In this package, you will receive the following:
Exercise Demonstration Videos

Training Schedule

Grocery Shopping List

Nutrition Plan

Recipe Guide
Equipment Needed:
Dumbbells or Resistance Bands

Mat (optional)

Towel

Water

Timer
Note: Due to the large file size, purchasers of this program will receive a link containing all content within 24-48 hours via email. Dropbox is not a requirement in order to access this media content. However, we encourage smartphone and tablet users to download the free Dropbox app or create an account to enable full length media content to ensure that viewers have complete accessibility to all content and media display.